SEF Stories
Cultural tour for our Namche students
Throughout January and February a number of our Namche Basic School students were able to take part in a once in a lifetime tour around many of the cultural sights of Nepal.
We provided funds so that they were able to visit places like Pokhara, Chitwan, Lumbini and Kathmandu. As the picture shows, they even run into the US Ambassador at the Chitwan elephant festival!
This was an amazing experience for the students and for most of them it was the first time that they had been outside the Khumbu. Many thanks go out to Tsedam Sherpa and his Home Away From Home staff for pulling this opportunity together.
Todd & Dane' Burleson's visit to Nepal
Todd, Dane' Burleson and their family visited Nepal in November 2016. They shared the below when they returned.
In a world where we are trying to teach our children religious tolerance, compassion and an understanding that many start life with much less than us, we were given a most precious gift, Christmas cards from Hindu children in Nepal.
More than a year ago when a powerful earthquake toppled a large part of Kathmandu, five little girls where brought into our lives by way of an orphanage closure. These little girls were young, scared, clipped hair for lice, shy and alone except they had each other. When asked could we take on these five beautiful Nepali girls, the Alpine Ascents Foundation (AAF) reviewed the situation and with compassionate hearts took on the responsibility of their education, room and board and personal welfare. How could we turn them down for in troubled times we must reach out and help.
Over the past year and a half we have been given reports that they have begun to thrive, to succeed in their studies, to grow their hair out, to speak with confidence asking and answering questions when spoken to. Todd and I were thrilled to hear such good news and as the opportunity presented itself for a Thanksgiving Nepal trip our family boarded the plane with the mission in mind – to see as many children that AAF sponsors as time will allow. Our time was short, but we were able to tour the three Kathmandu schools visiting almost all of our students.
The meaning of Thanksgiving defined as an expression of gratitude is what we found from the teachers, staff and the students that AAF sponsors. They all explained how important it is for the students to have faces with the people who are sponsoring them and giving them the opportunity for an education. Education is not enforced in Nepal as it is in the US, it is available for those whose parents believe in the benefits of an education or who have been given a chance through a foundation like the Alpine Ascents Foundation. Many families need their children at home to help with daily chores or to work supporting the family. Such an eye opener for our children who as teenagers are just now beginning to see an edge of the bigger picture. The picture that has many faces, many economic backgrounds, many religions – all working for the same goal of a brighter more educated future.
One of the small pleasures of parenthood is watching your children smile, laugh and play with others. As we entered all of these schools the sense of happiness and peace followed. These are children that are learning and growing in a happy and well taken care of environment. They feel responsible for their actions and their test results. They are courteous, well-mannered and grateful for the chance to receive an education.
We arrived with bags of goods – schools supplies, soccer balls, balloons, American footballs, vitamins, hairbands, etc. As the gifts were distributed again the overwhelming feeling of thankfulness came over us. Thankful that this foundation was started to help these children receive an education, to give them an opportunity for a better life so that they may prosper. Thankful to all of the generous donors who have continually supported the efforts of AAF for without this support AAF would not be able to help these children thrive in a scholastic environment.
Walking through the huge courtyard of the Young Hearts Boarding School (YHBS) watching students participate in their afterschool activities, one cannot help but feel the excitement of a thriving school environment. They were friendly and open and as our son jumped into a pickup game of basketball they all cheered when baskets were thrown. YHBS is a new school to AAF and with the five little girls living there, we arrived with eager anticipation to meet these young girls, give them a few gifts and check on their progress.
What we found was far from any of the first reports of these orphan girls being shy and scared; they were lovely each and every one of them. They were sweet, smiling with longer hair and they loved the colorful hairbands we brought. They were proud to show us around their school and their dorm. In their classroom we met their teacher who gave us a great report then asked the girls to come and get the gift they had made for each of us. We were amazed, for with little hands they had made us each a Christmas card. An offering of religious and cultural acceptance that meant more than just words, this was a gesture of thanksgiving and understanding. These little girls learned a small part of our culture and we overwhelmingly learned that peace, grace and tolerance happens one Christmas card at a time. It was the most treasured gift of all…
Todd and I want to personally thank each and every one of you for donating to AAF. With each of the smiling faces at the schools we say thank you to all of you for continuing to support this organization. AAF is not one person, but many working together for the betterment of the children in Nepal.
Shangrila Raut
This week we accepted another student to be educated through the generosity of donors.
Shangrila came from the same orphanage as Saraswati, Nirisha, Sharmila, Pari and Nisha and has been without schooling since the 2015 earthquake.. She was in a sense lost, until someone found the five little girls being educated by AAF and asked us if she could join them at Young Hearts Boarding School. Again the feeling of doing what is right in a world where a small child is orphaned by a mother that passed away and a father that no longer wanted her gripped our hearts.
A huge thank you to each donor of AAF for without your continued support we would not be able to help any of the students that are now studying under your generosity and the careful watch of the Alpine Ascents Foundation.
Shree Himalaya school visit
During the Fall 2016 climbing season, Vern & Carole Tejas were kind enough to drop into the Shree Himalaya School and Home Away From Home Hostel in Namche Bazaar and catch up with some of the students that we work with.
Carole reported "we arrived at the school in time for morning assembly, which was pretty impressive. On that day, there were about 75 kids in attendance. The kids lined up in the schoolyard, according to grade, and then proceeded to do some warm up exercises, after which they sung the national anthem and counted off (attendance). There was a brief section for announcements and then a brief dance. It was amazing how everybody seemed to be participating fully-- nobody slacking off or misbehaving! After the assembly, the kids marched single file to their classrooms. Once inside, they sang another song. It was great for me to visit the school again. I visited the school right before the earthquake, and then visited again and saw the damage to it after the earthquake. Since that time a tremendous amount of work has been done to fix the damage and add capacity and while the work might not be totally finished, the school is once again looking like a functional, safe, cheerful and clean place for the kids."
Vern had this to say about the hostel, where most of our students lodge "all the children looked clean and cared for. Good discipline was apparent as was politeness of the children. I left feeling that the home was a good place to be as a young person."
Gordon Janow student visit
Gordon Janow has just returned from Nepal and had a fantastic time visiting the students in Kathmandu.

While we often get word on the students grades and status from their schools Gordon said it was very moving to see the kids at school, smiling, enjoying recess and the older kids taking care of the younger ones.

He had the chance to meet each of the kids individually, chat a bit, and watch them start the days classes along with all the other students.
Dawa Yangi Sherpa college scholarship
We have been fortunate to work with Dawa throughout her high school years and now that she has graduated Kathmandu Valley Higher Secondary School we are delighted to be in a position to continue the funding so that she can attend college.
Dawa graduated school just recently and wrote to us "I got A+ grade i.e 91% in SLC and I became the school topper". The SLC is the School Leaving Certificate, the nationally administered high-school examination in Nepal that students sit after completing their 10th grade.
Dawa has decided to attend Xavier International Academy and opted to take the science track because "I want to be an engineer and I want to build earthquake proof houses in my village so that people will be safe from earthquakes and people don't have to feel insecure due to earthquake."
Six new students for the new school year
When Lakpa Rita Sherpa went back to Thame in October he was approached by members of the community requesting that a number of children are sponsored so that they can attend school.
After review of each families circumstance, we were delighted to extend that sponsorship to Temba Gyaltsen Sherpa, Dawa Chime Sherpa (pictured) and Phura Yanjee Sherpa, who will attend Kathmandu Valley Higher Secondary School, and also to Da Yangdu Sherpa, Pemba Tenzing Sherpa and Mingma Dorjee Sherpa, who will attend Shree Himalaya Primary School. All students will begin school in April 2016.
Final results for 2015-16 academic year
The final results for the 2072 Nepali academic year (2015-2016) are just about in for the students who attend school. The college/university students work to a slightly different schedule so we'll have those shortly.
The average mark obtained by the 35 students who sat finals was 65%, which translates to a B grade. Obviously some students fared better than others but overall we felt the results were encouraging in light of these being the first year of formal schooling for some 20 of those students who sat finals.
The award for best marks of the year go to Saraswati Budhathoki who wonderfully was top of her class with a 99.5% mark achieved!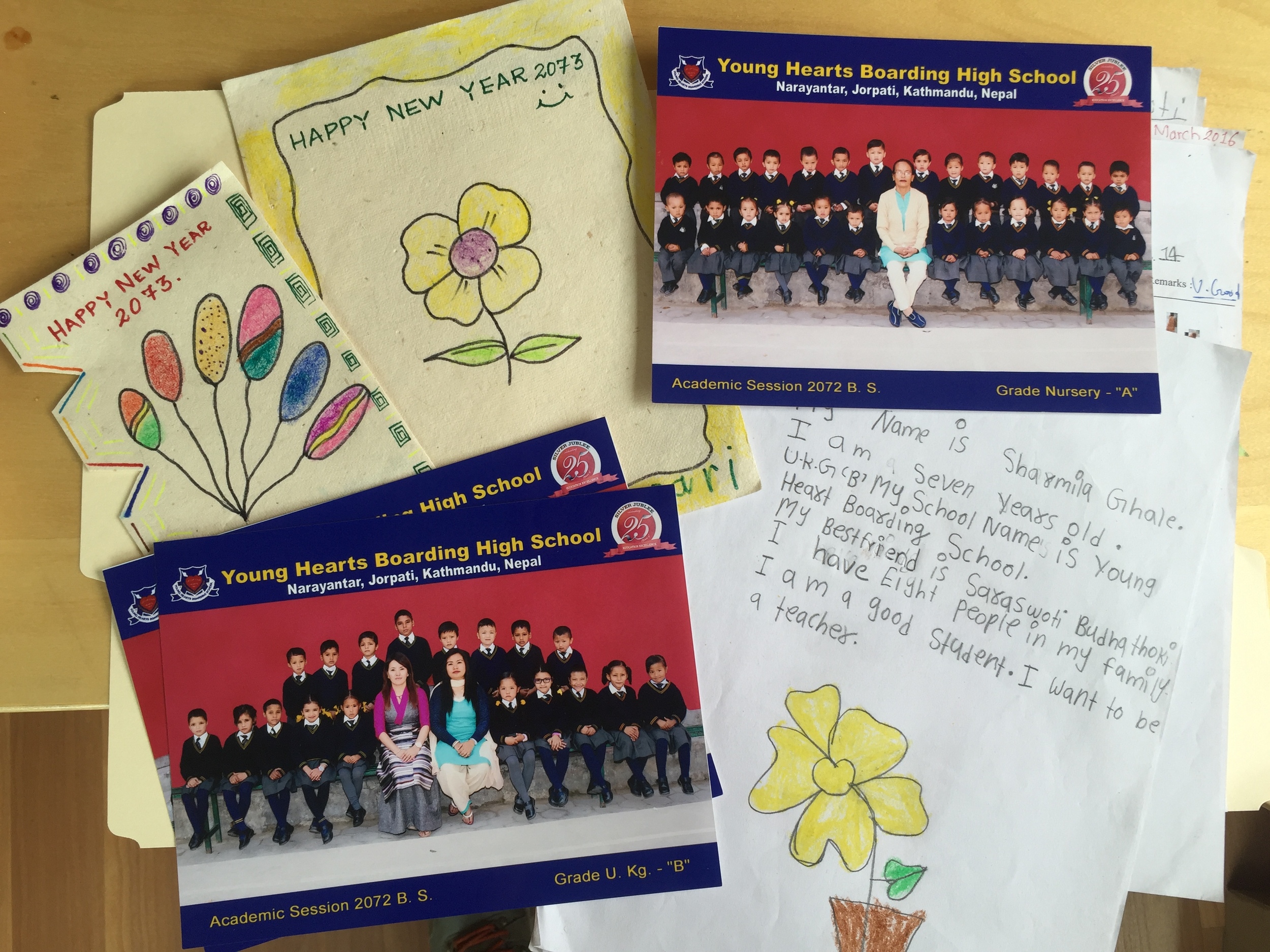 Gifts from the Young Hearts' students
After catching up with the five young students attending Young Hearts Boarding High School, Lakpa Rita Sherpa and Ben Jones were given some wonderful drawings, photos and music CD's to commemorate their visit.
We were so thankful to the girls that we wanted to share a snippet of what was received with you!
Catching up with Saraswati, Nirisha, Sharmila, Pari and Nisha
At the onset of the Everest climbing season, Lakpa Rita Sherpa, and Ben Jones took the opportunity, whilst they were in Kathmandu, to visit the five students attending Young Hearts Boarding School.
The girls seem well and Ben reported back "my impression of Vijay (the Headmaster) and the school were great. The kids all seemed happy, the school was clean and looked pretty nice and we were told that they are all doing very well. They all gave us some art that they made for the upcoming new year that we will send back to Seattle.
Vijay seems great and was helpful in setting up a time to visit. The other teacher's and assistant principle all seemed great as well."
Visiting Jigme
Back in September we were able to offer Jigme Tshering Sherpa's family the funds that enable him to attend the Kindergarten of the Golden Peak High School. Carole and Vern Tejas found the time before they set off guiding Spring 16's Everest Trek to visit the school and meet Jigme.
They reported back that "we met with the principal of the school, the teacher in charge of Jigme's class and Jigme himself. Jigme himself was well groomed and seemed healthy. He was cute and had a sort of feisty personality - in a good way! Jigme's teachers said that he was interested in learning and engaged.
We saw classrooms, Jigme's dorm room, dining hall and common areas. There was a good outdoor area for kids to play. The school facilities were OK. 550 kids in grades pre-k to grade 10 (the highest grade), about 40 of whom board at the school. The facilities were a bit worn - older and not the cleanest -- but cheerful enough. The school is in the middle of constructing a large new building -- planned pre-earthquake-- and the plan is to relocate a lot of the classrooms and the hostel to the new building'
New (old!) student
Nima contacted us in January 2016 with the following 'I am Nima Nuru Sherpa from Solukhumbu . I have passed my SLC in Kathmandu Valley Secondary School under your support and have now finished my grades 11 and 12 and intend to enter into a Bachelors program in Management. The thing is my father died two months ago and now I have only one married sister and old mother. My mother is a housewife and my elderly sister has her own family and I am afraid whether I will be able to undertake my Bachelor's due to my poor finance. The four years Bachelor level fees are nearly 5lakhs and I do not think I or my family could be able to make that amount. So, with due respect, I wanted to ask if you could you please support me once again in the needy time once again. Your small help can make my and my family's future secure.'
After reviewing Nima's situation and his past excellent academic performance we decided to offer the funds to enable Nima to undertake his Bachelors course and we are pleased that he has enrolled at Gateway College and has begun his studies.
Kathmandu Valley High School - 3rd term results
The third term results for 2015-16 school year are in for our Kathmandu Valley High students. We have some students who continue to excel, but the results of our new batch of students who were admitted in September 2015 (see story below) cause concern.
Since it is their first year of formal schooling and they are all young we will continue giving them time to adapt to their new surroundings and offer all the support we can, with the hope that results improve in the near future.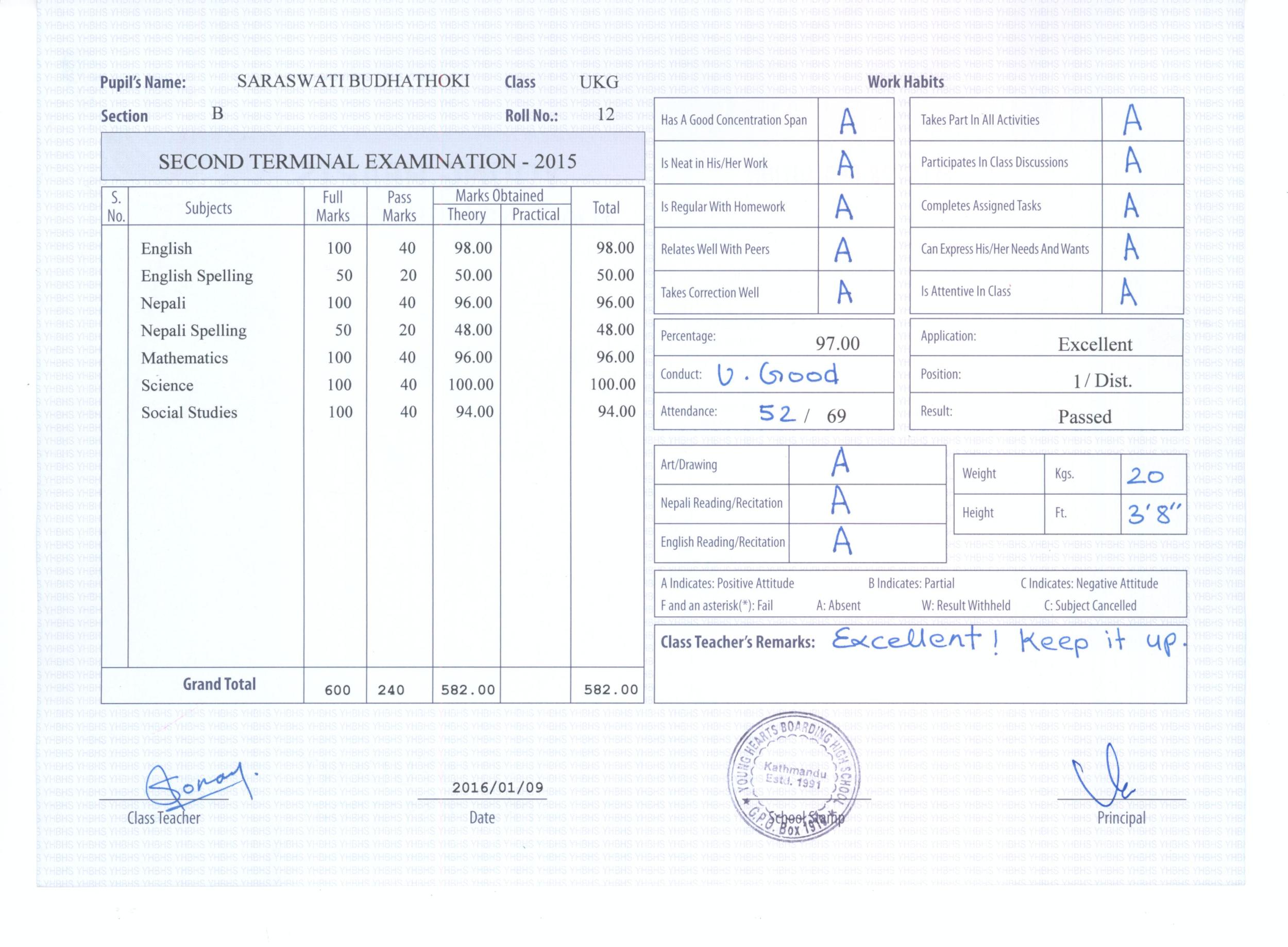 Young Hearts Boarding School - 2nd term results
The second term results for 2015-16 school year are in for our Young Hearts Boarding School students, Saraswati, Nirisha, Sharmila, Pari and Nisha, and they continue to impress, even in adversity. The school principal reports:-
We have completed our second Term and now we are in the midst of our last and final term. We had a very short winter break as we had to cover a lot of classes that we had missed due to the earthquake. Life here has become tough as all the essential commodities have been scarce due to the Indian Blockade and the Terai agitation. Cooking Gas(LPG),Petrol,diseal has become so precious and its so difficult to come by. We at school are using firewood to feed the children and diseal/petrol in the blackmarket. Dont know when and where its all going to end .
Looking at the brighter side....All the girls are hail and hearty. There performance in studies is examplory and we all are proud of them. I have attached their Second Terminal Results here.They have blended with us so easily and are very happy with us here.Pari the little one in Nursery has also improved a lot and her teacher is very much pleased with it.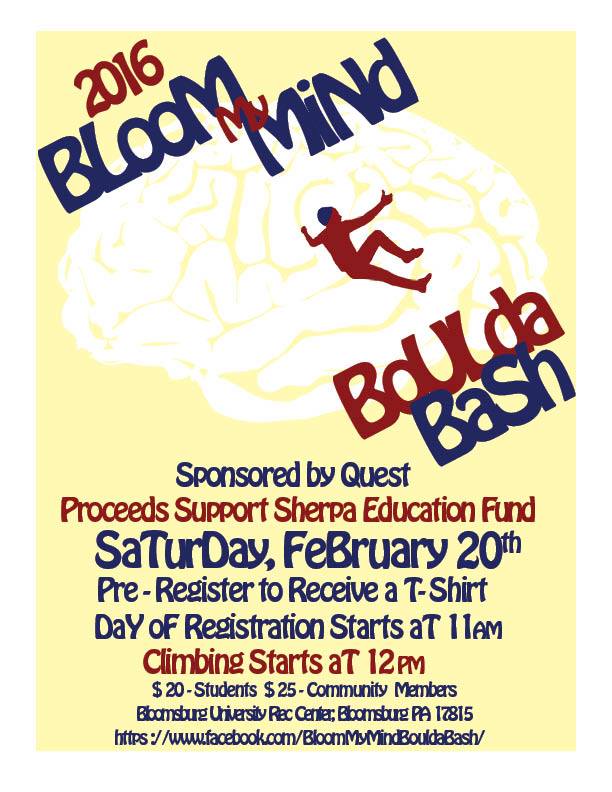 Bloom My Mind Boulda Bash
Quest, the outdoor leadership program at Bloomsburg University of Pennsylvania have kindly pledged to donate the proceeds from their upcoming Boulda Bash to us.
The Bash will take place at the university's indoor rock wall on February 20th and is open to all-comers.
We are grateful to them, and all our other donors, for the continued support offered.
Gordon Janow visit to Nepal
Board Member, Gordon Janow, has just arrived back from Nepal where he visited some of the schools that our students attend. He is pictured here with the five young girls that we sponsor at the Young Hearts Boarding School.
It has been a difficult month for all of our students and their schools due to the embargo between India and Nepal. Many schools are closed due to the lack of propane with some having to burn firewood to cook. We believe they will open again next week and hope that the students will remain in as good spirits as those that Gordon encountered.
More new students
We are delighted to announce that we have agreed to provide the funds for a further twelve new students to attend Kathmandu Valley Higher Secondary School from the second term of the 2015-16 academic year.
We have been working with the school for many years and were approached by the Executive Director of the school who advised that 'all of them are from very poor families and this earthquake has worsened their conditions. After I met them all, most of the women are single mothers who have been abandoned by their spouses but they all have a desire to give good education to their children but do not have the means to do so. Most of the mothers said that since they could not study themselves they want their children to get good education because their life would have been much better if they had received good education too.'
After further understanding each child's situation we could do nothing else but help in any way we could, so Ajit, James, Sanam, Dipesh, Sunil, Manish, Dipen, Sisham, Badal, Ashish, Sangit and Sujit all began school on August 13th, 2015.
Another new student
We were approached by the US based friends and family of Lhakpa Chirring Sherpa to support the education of his oldest child, Jigme Tshering Sherpa.
Lhakpa died in the avalanche that hit Everest base-camp in April 2015 following the devastating earthquake in Nepal. Lhakpa left his wife, Dawa Diki, and two young children.
Dawa Diki was obviously desperate for Jigme to have the best educational opportunities as possible, but had very little means to do so, especially as the family also lost the house they were renting during the earthquake. That's when we and their generous family and friends stepped in.
Jigme is now thriving in the Upper Kindergarten of the Golden Peak High School and we hope that the very small assistance we are able to offer him and his family goes some small way towards dealing with the loss of his father.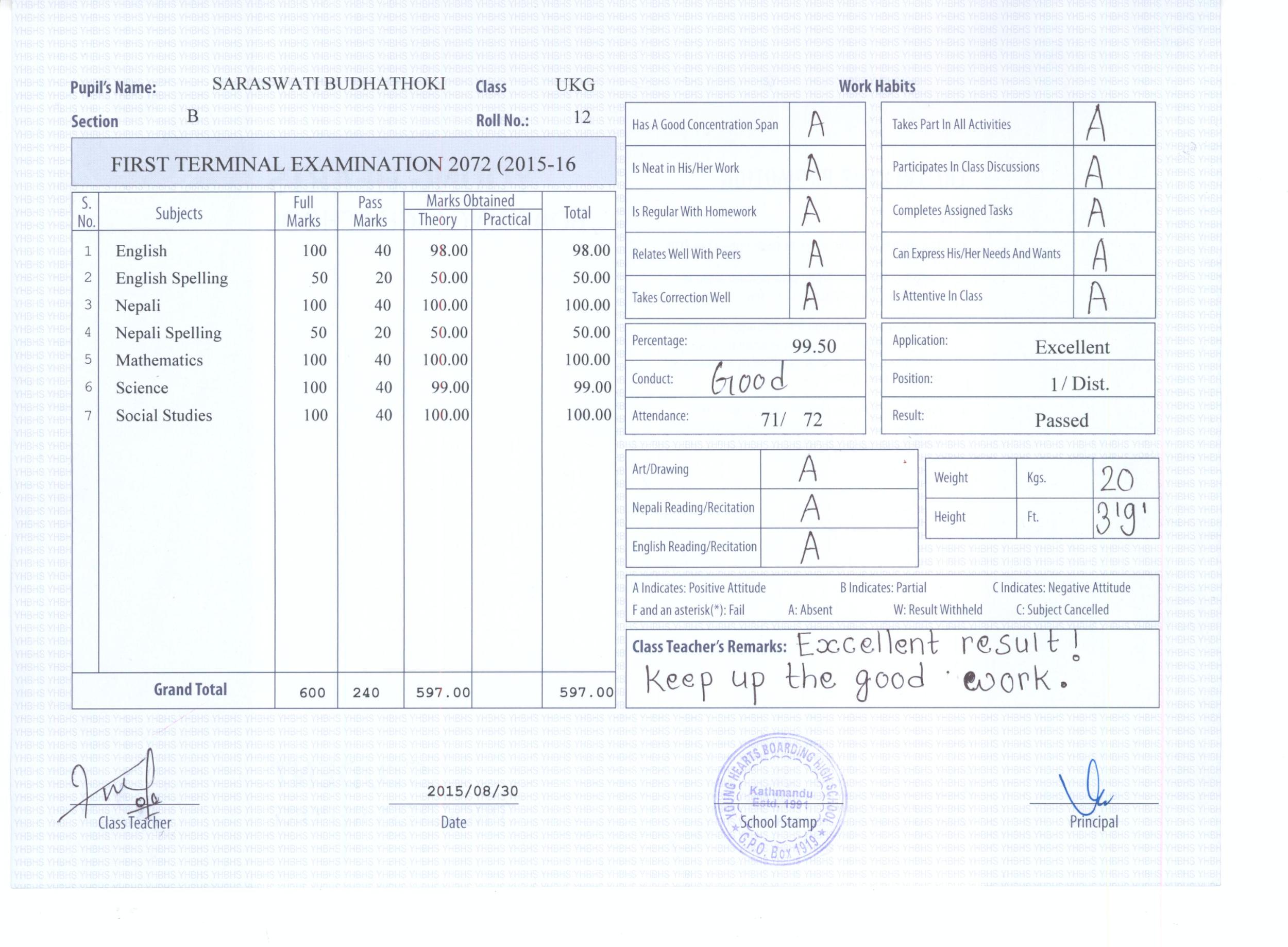 Young Hearts Boarding School - 1st term results
The first term results for 2015-16 school year are in for our Young Hearts Boarding School students, Saraswati, Nirisha, Sharmila, Pari and Nisha, and they are impressive!
The students all achieved pass marks for the term, with A's and B's for the majority of their subjects. Their overall marks were no lower than 85%, with Saraswati achieving a remarkable 99.5% mark to finish top of her class and gain an overall distinction for the term.
Kathmandu Valley High School - 1st term results
The first term results for 2015-16 school year are in for our Kathmandu Valley High students..and they are mixed.
Dawa Yangzi Sherpa (see our story on her 2014-15 academic achievements below) continues to log great grades and lead her class but our other three students all failed their first term.
For two of the students, this is their first term outside the Nepali public school system, so they are finding their feet and working hard to come to terms with the language they are being taught in being English as opposed to Nepali.
Our other student, Pema, is very disciplined and hardworking but just finds her studies difficult. We have arranged for her to receive private tuition from now until the end of the 2015-16 academic year in the hope that this helps her get through her 9th grade with flying colors.
Shree Himalaya School - 1st term results
All nine students passed the first term examinations for the 2015-16 school year. Marks ranged from 72% to the 97.75% that Pasang Futi (pictured) obtained.
Poor old Lhakpa Tshiring obtained marks of 88% but was told on his report card 'to work harder, he can do better than this'. Those Nepali teachers are hard taskmasters!
New students from Thame village
In July 2015 we were contacted by Jamyang Wangmo, a Buddhist Nun of Spanish descent who has been living in Nepal for around 42 years. She asked us if we would consider providing the funds so that 9 year old Phurb Lhamo Sherpa (pictured) and 6 year old Mingma Wanda Sherpa could continue their education at the Shree Himalaya School in Namche Bazaar.
Both children's family's were finding it difficult to continue to pay for their children to attend the school, so after we got to understand the circumstances around the family's difficulties we agreed to provide the funds so that they could continue attending school and staying at the Home Away From Home Hostel.
New students
We have committed to provide the funds so that the five girls pictured can attend school for the 2015-16 academic year and beyond. Saraswati, Nirisha, Sharmila, Pari and Nisha will be educated at Young Hearts Boarding High School in Kathmandu.
All five girls are either orphans or were left at an orphanage by their parents. The orphanage searched for boarding schools in Kathmandu in order to give them as bright a future as possible and Young Hearts Boarding High School agreed to take the girls in. We then stepped in and were delighted to provide the funds to make the transition from orphanage to school possible.
OAMC Partnership
We are honored and delighted that so many different individuals and organizations choose to donate to the Sherpa Education Fund. Recently OAMC contacted us and kindly agreed to donate a percentage of the sales from their Himalayan inspired Fall/Winter 2015 collection.
Earthquake update
We wanted to share the news that all the students we work with are fine.
The Kathmandu Valley High School in Kathmandu reports that its boundary walls have collapsed, that several classrooms have cracks in them and that many people are camped on their football ground, but that all students were well.
The situation with the Shree Himalaya Primary School is a little more complicated. Two of the four school buildings can no longer be used due to the damage inflicted by the various tremors, and a third building will require extensive repairs before it is available to use. The nursery building, that we provided funding for, although sustaining damage as our picture shows, was repaired pretty rapidly and was back in use by mid-May. Again all students, thankfully, were unharmed.
Our college students reported back that they were physically as well as can be expected, but some lost their family homes.
Dawa Yangzi Sherpa
Dawa attends Kathmandu Valley Higher Secondary School and completed ninth grade in the 2014-15 academic year.
Her average pass mark for the eight subjects she sat examinations for was a staggering 88.7%. Unsurprisingly, with these marks, Dawa achieved an 'A' grade for the year and was the top rated student in her class. Tenth grade now awaits Dawa and hopefully beyond.
Dawa Jangbu Sherpa
Dawa is the youngest child of Dorjee Sherpa, one of the Sherpa who lost their life in the 2014 Everest tragedy.
We provided funding for him, and his three siblings, to attend the Shree Himalaya School in Namche. Affectionately known as 'the Small one', Dawa has adapted to his new surroundings so well that he achieved Best in Class at the recent 2014-15 academic end of year prizegiving ceremony.
Tsering Tenzing Sherpa
Proudly, the list of first's for Tsering and the Alpine Ascents Foundation is long. Tsering was our first student:
-To be sponsored by the Alpine Ascents Foundation to attend school in Kathmandu.
-To graduate high school
-To begin a university course.
-To complete his Bachelor's Degree!
Tsering majored in Environmental Sciences and received an overall First division. He is now on his way to the US to undertake a six month Environmental Leadership course that he hopes will enable him to return to the Khumbu to effectively manage mountain trekking trails.
Tsering is a perfect example of our mission statement - to see through a student's education from the time they start school til the time they receive their high school diploma with many furthering their education to university.
New students
As a consequence of the avalanche on Everest in Spring 2014, partnerships formed with other foundations and recommendations from the Sherpa community we have made commitments to provide sponsorship to fourteen new children in the 2014-15 academic year.
Some of them, like Dawa Jangbu Sherpa pictured, are already attending school, some we are working hard on getting into the best school or college for that child.
College Sponsorships
In the 2014-15 college year we significantly expanded the students we are committed to sponsoring through college.
To date we have only provided financial support for one student to attend college, but from this year, that rises to six students.
We are excited for Nima Phuti Sherpa (Management), Pemba Gyaltsen Sherpa (Social Work) (pictured), Ang Gyaltsen Sherpa (Management), Lhakpa Tenzing Sherpa (Management & Humanities) and Furba Gyaltsen Sherpa (Business Studies) as they pave this new path for us.
64 pairs of shoes!
Our Shree Himalaya School students lodge in the Home Away From Home hostel in Namche Bazaar whilst they attend to their studies.
The hostel was founded by Tsedam Sherpa and his daughter Kami and has become a place where Sherpa children are supported and cherished as they undertake their education.
Tsedam contacted us as he wanted to buy shoes for each child staying at his hostel and he wanted to buy them on his visit to USA, as he felt that the shoes in Nepal were not of great quality.
We were more than happy to help by providing the funds so that each child was able to get the new shoes that they then proudly displayed when the shoes got back to Nepal.